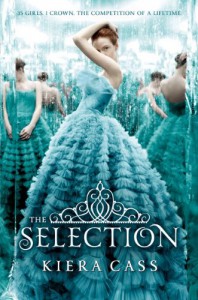 A coworker recommended this book to me, and I was about two-thirds of the way through before I remembered to come on Goodreads and mark it as currently-reading. That's when I realized I already intended not to read this book. Oh, well.
I had to be convinced to read it at first - when my coworker was describing it to me I was all "okay, so a few dozen women compete to be a princess. Do they kill each other?" and my coworker said no. I tried a few more times to find the YA death/mayhem connection, but no. It was just a simple competition, like
The Bachelor
. But it's dystopian! So I read it.
I enjoyed the book for the fluff, but I felt as though that's all there was. Looking at anything too closely revealed there just wasn't much there. The caste system sounds interesting on the surface, but doesn't make much sense at all when you explore it more fully. America's story of finding a clandestine US History book was intriguing, but barely touched upon. I expected a big twist at the end... something far more interesting than we got, like the story wasn't set in North America at all, or everyone was Chinese, or something, but nothing.
I am giving it 3 stars though because it was an enjoyably fluffy read for me.